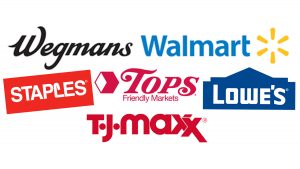 Our most urgent need, in addition to volunteers, is for cash donations to purchase home essentials, monthly utility bills and seasonal maintenance. We also gratefully welcome gift cards to Wegmans, Tops, Lowe's, TJ Maxx, Walmart and Staples.
Office Products — "Forever" postage stamp rolls, legal-size envelopes, white letter sized copier paper and computer technical support
Groceries — Non-perishable items like hearty soups and stews, broth, applesauce, pasta, tomato sauce, dark roast coffee (regular), dry mixes, including brownies, cakes, muffins, rice and macaroni and cheese, sugar (white and brown) and Splenda*
Personal Supplies — Adult protective underwear with side fasteners, personal hygiene wipes (hypoallergenic), dental floss, lip balm/moisturizer, shampoo (dry and liquid, 3-in-1 shampoo/conditioner/body wash), hypoallergenic lotion
General supplies — Freezer bags (gallon & quart), Bounty Select-a-Size paper towels*, Dawn brand liquid dish soap*, Dishwasher detergent pods, 13-gal clear kitchen garbage bags and 39-gal trash bags, LED 3-way & 40-watt bulbs, 2-ply toilet paper, swiffer dry refill sheets*, hypo-allergenic laundry detergent (hE) for front loaders (not pods), standard-size zippered pillow protectors and ice melt for walkways
*Please note: These brand-specific requests are preferred.
For details or to set up a time to help, call (585)393-1311 or email Suzanne Underhill, Mary Kay Naioti or Crystal Martin.
We appreciate any and all donations, and thank you for your kindness and generosity!