TOTE BAG TENT SALE III — Wednesday, July 22, 10 a.m. to 2 p.m. at Light Hill, 5160 Parrish St. Ext., Canandaigua.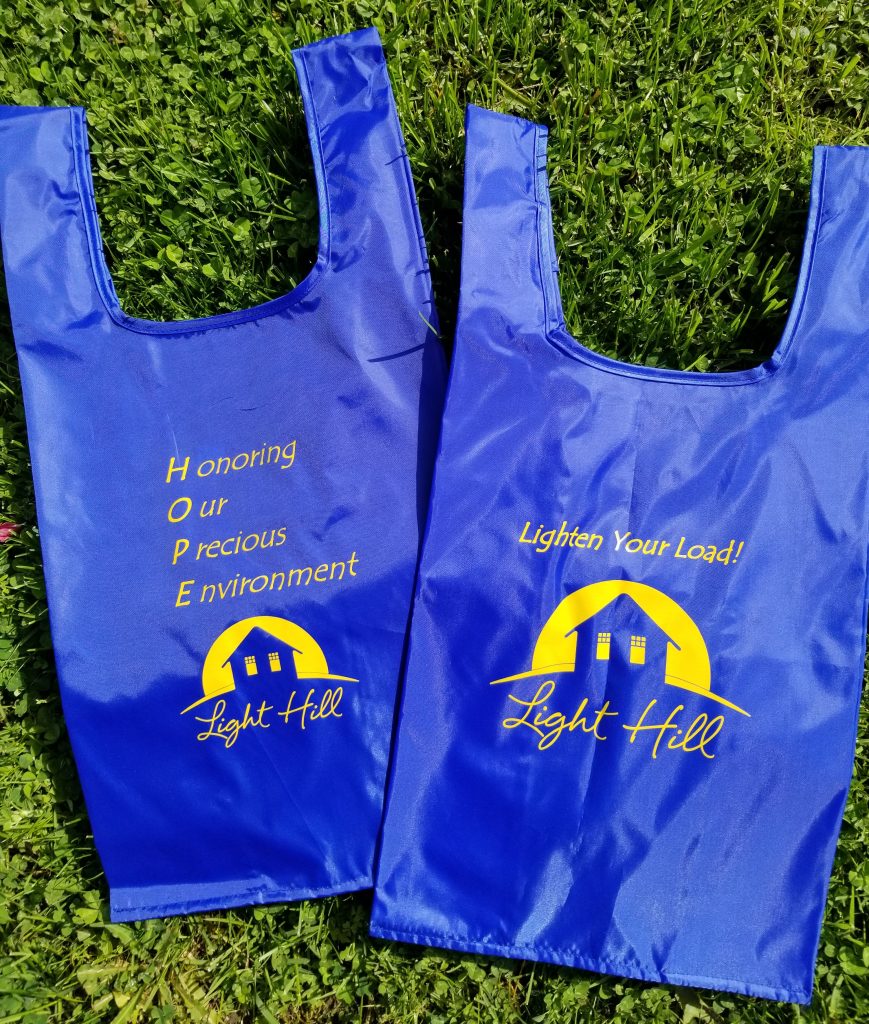 The original TOTE BAG TENT SALE was too much fun to only do once… so we're at it again! TOTE BAG TENT SALE III is happening Wednesday, July 22, from 10 a.m. to 2 p.m. Swing by curbside and see us!
These attractive, reusable rip-stop bags self-fold into a small pouch for easy keeping in a purse, backpack, bike bag, glove compartment, hip pocket, etc. With a 50 lb. capacity, they're certain to come in handy at the grocery store, farmers market, beach, boat and more.
— Wednesday, July 22, 10 a.m. to 2 p.m.
— Tent will be set-up at the base of the driveway – 5160 Parrish St. Ext. (If it's raining, please drive on up to garage.)
— In keeping with pandemic protocol, we'll be wearing face masks and ask that you do the same.
— A jar will be used to collect cash or check payment. Please come prepared in an attempt to avoid handling money exchange or use of pens during the pandemic. Checks are payable to Light Hill and totes are $5 each.
Both tote bag designs reflect Light Hill's mission with a nod toward conservation in honor of EARTH DAY's 50th anniversary (April 22). After all, every day should be inspired by EARTH DAY.
Light Hill operates 100% through donations and fundraising efforts. Realizing society is undergoing challenging economic times, we want to be proactive by offering affordable, practical fundraisers.

"WHO'S BEHIND THAT MASK?" Now through July 24, play our community-spirited name game and support Light Hill at the same time. Correctly identify 20 masked community leaders and win a chance at a $150 gift package. Learn more here.
LIGHT [the] HILL LUMINARIA CELEBRATION OF HOPE — November 2020, stay tuned for more information.
Check back for more exciting events ahead.